The device chans-01-SCENAR-M+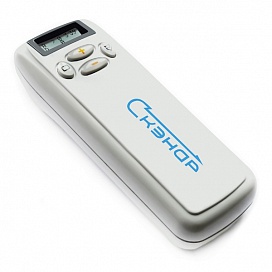 Home Helper Plus — updated version of chans-01-SCENAR+ c LCD display showing the exposure parameters. The presence of timer and additional diagnostic possibilities.
Modification of the personal device chans-01-SCENAR-M, which was added to the regime of harmonic modulation affecting the signal. In this mode the device is in the treatment forms a musically modulated sequence SCENAR impulses. These impulses cause vibration of the stratum corneum and provide a "sounding" of the skin in the form of a piece of music. Thus, the use of musical frequency modulations allows you to combine SCENAR-therapy effects. The device has a LCD screen.
Frequency — 14, 60, 90, 340 Hz;
amplitude modulation — 3:1;
frequency modulation — 30-120 Hz;
dosed mode — for any modes and their possible combinations;
12 modes of information modulation — 14-240 Hz;
the presence of a timer;
a liquid crystal display.