The apparatus SCENAR-1-NT performance 02.3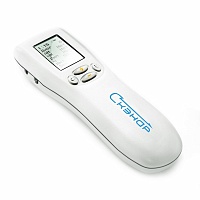 SCENAR Pro — model, simplified in functionality with respect to the Performance 02.1. Characterized by the presence of only one mode measured influence, and there are no modes of screening and the combined modulation (swing).
This modification is a budget model of the professional unit. Has the necessary and sufficient set of functions for professional use.
Single dosing regimen impacts;
five modes of amplitude modulation;
pulse frequency from 15 to 350 Hz;
four modes of damping (a change in form of impulses);
mode variable damping;
mode of frequency modulation (changing pulse frequency from 30 to 120 Hz);
intensive care: impact of bursts of pulses (from 1 to 8 pulses per burst) with adjustable pulse interval (gap);
graphical representation of dynamics of reaction;
information display on graphic display with illumination;
ability to store up to five combinations of modes of exposure.