The apparatus SCENAR-1-NT performance 02.2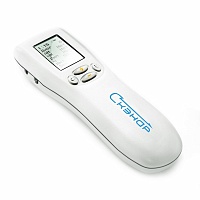 SCENAR Optima model, slightly different from the Performance 02.1. Compared to her, has only one mode of the combined modulation (the swing), and there is no screening modes.
This modification represents the best combination of price and quality. Compared to the previous model (SCENAR-1-NT performance 02.3) the device's functionality is extended by adding a second dosed mode ("Diag 2" differential dose) and one mode of the combined modulation (Swing), allowing both to change the shape, gap between pulses and the frequency of their repetition. The device is most popular among sports physicians and specialists in manual therapy.
Two modes of influence dosing;
five modes of amplitude modulation;
pulse frequency from 15 to 350 Hz;
four modes of damping (a change in form of impulses);
mode variable damping;
mode of frequency modulation (changing pulse frequency from 30 to 120 Hz);
single mode combined modulation (swing);
intensive care: impact of bursts of pulses (from 1 to 8 pulses per burst) with adjustable pulse interval (gap);
graphical representation of dynamics of reaction;
information display on graphic display with illumination;
ability to store up to five combinations of modes of exposure.