The apparatus SCENAR-1-NT performance 02.1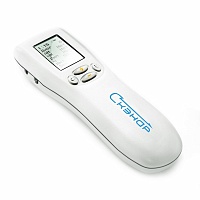 SCENAR Pro Plus model is a little inferior in functionality to the version 01, however, have compared the Performance of the 03 features like two of the dosing regimen of exposure, the screening mode, the mode variable damping and the mode of intensive therapy.
This model is the most popular among professional users. Compared to the previous model (SCENAR-1-NT performance 02.2) the device's functionality is extended by adding one screening mode ("Diag 3") and increasing the number of modulation modes combined with up to four that allows changing the parameters of impulses and to use their various combinations. The device is very popular among American and Australian physical therapists.
Two modes of influence dosing;
the screening mode;
five modes of amplitude modulation;
pulse frequency from 15 to 350 Hz;
four modes of damping (a change in the form of impulses);
mode variable damping;
the mode of frequency modulation (changing the pulse frequency from 30 to 120 Hz);
four modes of the combined modulation (the swing);
the mode of "intensive therapy": impact of bursts of pulses (from 1 to 8 pulses per burst) with adjustable pulse interval (gap);
graphical representation of the dynamics of the reaction;
display information on the graphics screen with backlight;
the possibility of storing up to five combinations of modes of exposure.