About the center
Moscow Medical center "SCENAR".
ИНН 7715324236
The center was founded on 14 March 2002.
The license of the health Committee of Moscow Government: Series МДКЗ № 15119/6578.
Center Director, chief physician – Ershova Irina Viktorovna (medical experience 22 years).
Medical speciality General medicine (Sverdlovsk state medical Academy). Specialization: therapy, radiology, physical therapy, reflexology, SCENAR-therapy.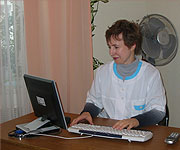 The center has highly qualified medical doctors of various specialties neurologist, cardiologist and emergency physician, urologist, pediatrician, therapist.
All doctors are specialized on SCENAR–therapy and SCENAR-expertise.
The mode of operation of the center: daily from 8.00 to 20.00.
Treatment schedule each patient individually.